This morning I read the headline of the summation of a research paper that made me reflect on many scenarios in my own practice as a NP that could have resulted in poor lifestyle behaviours, if my approach with patients was different.
How many times have we seen patients get a prescription and then act as if it was a license to persist in poor lifestyle behaviour? A patient of mine once said "When I got sleeping pills I stupidly thought I could drink coffee in the evening. There was an instant lesson that night. When I started on statins I assumed I could eat all the red meat and dairy products I wanted. Our little human brain is a mess!"
I was reminded of this when I read the following headline and I am sure you too will see how it might fit with some of your patients.
The headline read 'Healthy Habits Backslide After Starting Statins, Antihypertensives' (Patrice Wendling Feb,5 2020, - Medscape). So often the uninformed think that taking a pill to combat their rising LDL cholesterol level or high blood pressure is an invitation to party – saying 'Hey I am safe now so let's live it up!'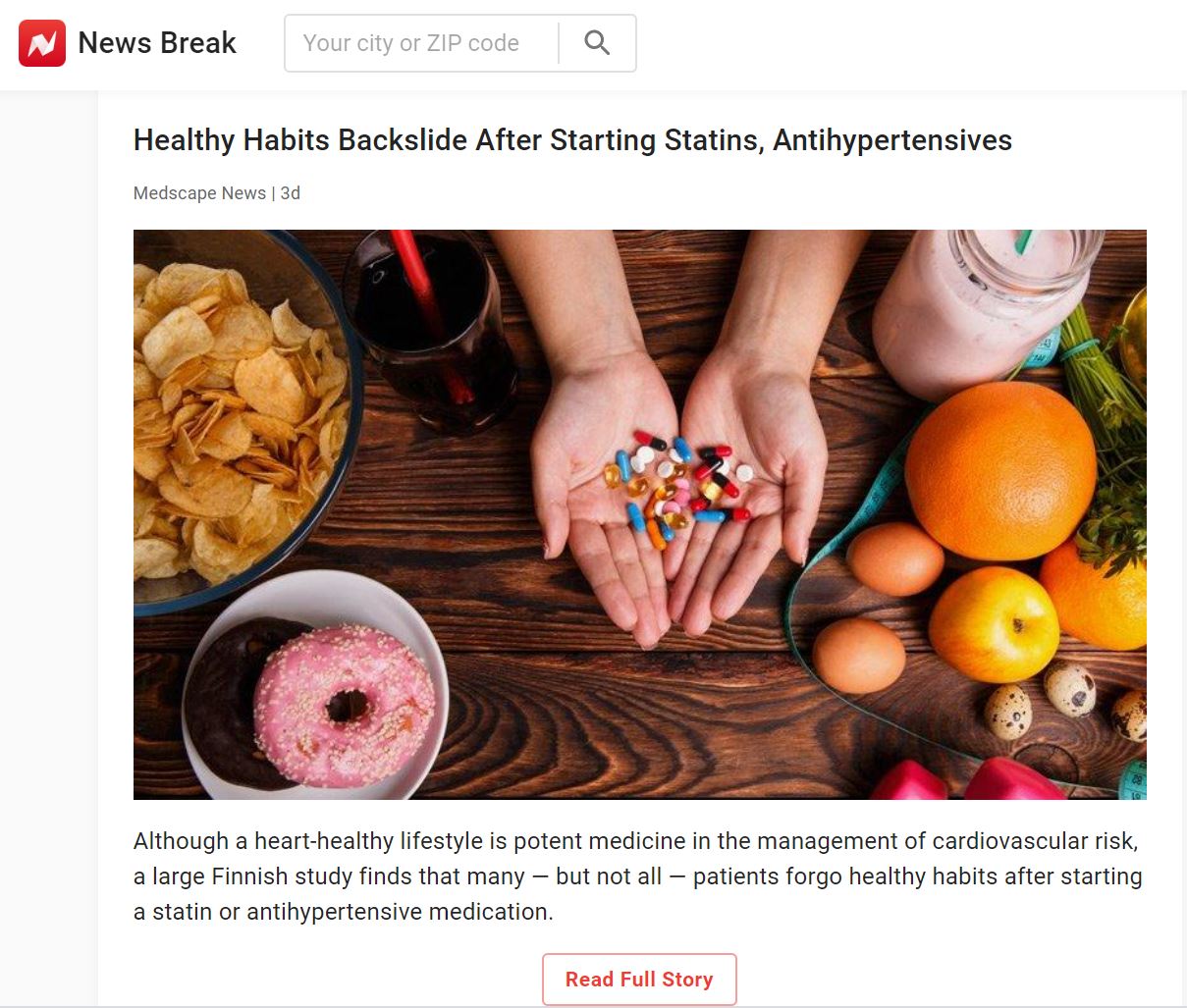 As a healthcare provider, it has always been my practice to ensure that patients under my care are very aware that medication is only part of the treatment process and that a healthy and active lifestyle is paramount to sustaining good health.
The lead author Maarit Korhonen began this research with a pre-conception that patients conceptualise that medication is the fix to their problem and hence there is no need for them to listen to any cautionary advice and live healthy lifestyles.
Does this mean that we as healthcare professionals are failing dramatically with our health management plans? I wonder; are we failing our patients by not engaging them more in the management of their health if we simply prescribe a pill?
Nurses traditionally engage in patient centred care; however with increasing pressure to manage higher patient to nurse ratios perhaps there is a degree of hesitance to go the extra mile and spend more time engaging patients to make lifestyle changes.
Encouraging patients to engage in a heart healthy lifestyle in conjunction with medication can add up to a decade of disease-free life. Discussing a plan that is sustainable for the patient and making compliance and modifications to that plan through future consultations may determine their willingness to change and adhere to ensure their longevity.
My experience is that patients generally like to be engineers of their own future and welcome the engagement with their health practitioner. They respect and appreciate open communication and collaborative decision making when instigating sustainable change.
I understand that time constraints for nurses often become overwhelming, however, by effective engagement, reflection and affirmation you may assist in facilitating healthy outcomes for your patients and break down the barriers for those who may be at high risk of becoming victims to a 'Pill Culture' by helping them to understand that mediation is simply one part of living healthier and reducing cardiovascular risks generally.
Please share your experiences; join the NMLC community and tell us your stories.